The Birmingham Bass Masters














Birmingham, Alabama


One of the earliest organized Bass Fishing clubs, The Birmingham Bass Masters were established in 1969. A group of anglers gathered at an early morning breakfast location talked of
the idea
of promoting an organization of competetive anglers, intent on
SPORTSMANSHIP, HONESTY, COURTESY, CONSERVATION, SHARING OF KNOWLEDGE, and HELPING OF OTHERS.........

Over Thirty years later these Core Idea's are still the Clubs Foundation.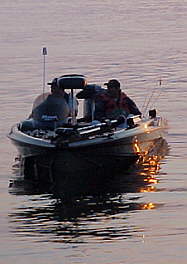 Though we are not a B.A.S.S. Federated Club, we do embrace the principles and purposes of the Bass Anglers Sportsman Society. Our goals are to stimulate public awareness of bass fishing as a major sport, offer our state conservation department our organized moral and political support and encouragement, to promote full adherence to all conservation codes, to improve our skills as bass anglers through a fellowship of competition and a sharing of our knowledge with fellow club members, and most importantly, to promote and encourage youth fishing for this great recreation.

We fish 10 club tournaments a year, in addition, we organize and officiate two to three "Open Wildcat" tournaments a year that have gained a reputation for being operated in a very professional and organized manner. Each club tournament is held on a different lake and no two anglers can fish more than one tournament together over the course of the year. Club
meeting
s are held on the
first
and third Thursday each month.
Membership into The Birmingham Bass Masters is currently by "Invitation Only". You may submit an application for Membership Invitation by
Clicking Here
.




Welcome to the 2004 Tournament Season